City break in Cologne. Active leisure ideas for Cologne - attractions, recreation and nightlife
Cycling around the city is very popular among travellers. Rent-A-Bike is considered the most famous bike rental service. Here you are allowed to rent a bike starting from a few hours till several days. Travelers are also offered services of a personal guide who can escort you during a ride and show the most beautiful places in the city. Suburban area of Cologne is the location of a famous amusement park named Phantasialand. In addition to exciting attractions, visitors here can enjoy an amazing multimedia show, visit "Winter Garden" Vaudeville and dine in one of the local restaurants, which offer best international cuisine.
Artotel Cologne, by Park Plaza is a hotel that combines outstanding architecture, modern facilities, and high-class interiors. However, original artworks, many of which were brought from …
Open
Cinemathec is known as the most prestigious entertainment center of the city. Here you will find a modern cinema, a disco, a bar and a restaurant. We also suggest visiting Cologne Zoo, where you will see animals and birds brought from all over the world. Unhurried hippopotamuses, graceful cheetahs, penguins in the ice pool and friendly seals – it is hard to find such variety of fauna in another German zoo. The zoo is divided into several themed zones, each of which features different types of nature's landscapes.
Those, who can't rest without fancy night entertainments, will find widest range of clubs and discos in the city. The opening of Koket club took place more than 50 years ago. All this time the club has remained one of the most prestigious and well known institutions of the city. The hall of the club is decorated in the style of the 60s of the previous century. On evenings interesting shows are organized in Koket, so we recommend visiting this place and enjoy its special atmosphere. Lovers of dancing until dawn will surely like Diamonds club. The first level of the club is the location of a large dance floor, while the second level has two bars and a cozy room for VIP-guests. The club is distinguished by excellent technical equipment and knowledgeable selection of music programs. Most popular DJs make their performances in Sensor club. A great number of visitors is the only negative factor of this club. In order to take a seat at the bar, it is best to come to the club immediately after opening. Copyright www.orangesmile.com
Le Meridien Dom Cologne is located in an impressive building with beautiful terraces, which offer breath-taking views of the city. Inside guests will find a charming and comfortable setting …
Open
For active people who do not like to sit in one place, the city of Cologne offers the quite rich range of activities. The best way to get familiar with the city and enjoy its beauty is by bike. There are plenty of services where you can rent the bike in Cologne. But the best offers are at the Radstation Köln or Cologne Central Station. Here the choice of bikes is really bright: city-bikes, trecking, tandem bikes, e-bikes, mountain and bikes for children. Also, they offer alternatives for people with handicaps like electro-scooters, handbikes, and wheelchairs. The choice of offers and prices will gladden you as well. If you desire to have a ride for 3 hours with city-bike, then it will cost you €5, while the price for the whole day will be €10. In Bike Rental Cologne they offer the variety of discounts. You, your family and friends will discover this amazing city, which is an absolute highlight.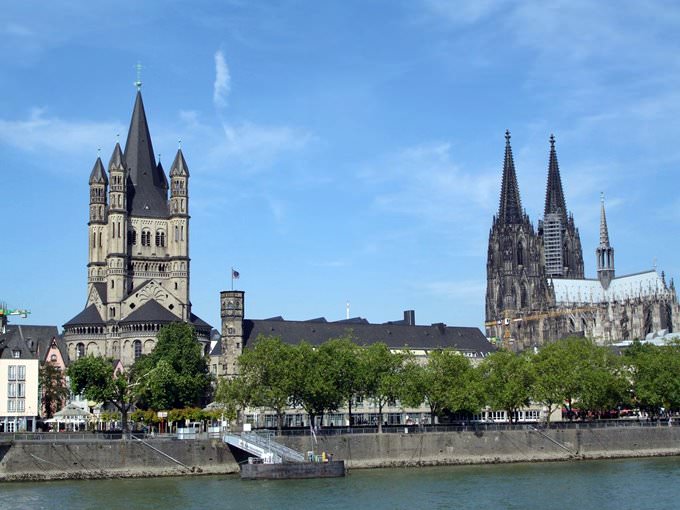 The case, you felt bored in your hotel room and feel like you need some adrenaline rush - GoJump Skydiving Centre will make all your dreams come true. Together with them, you will experience the tandem jump from 4,000 meters altitude. The price is also very friendly for your pocket, only €200. The wind of freedom and bright. The city of Cologne is the proud owner of a very beautiful river Rhein. Take the boat cruise along the river and enjoy the one-hour Panorama tour. You will experience an amazing trip through the charming city and discover its most astonishing highlights. Take some snacks with you, and feel yourself like in the open-air cinema. When choosing the boat cruise, you will be offered four different options, where you can choose one to your liking.
There are many unusual historic hotels in Cologne, and Antik Hotel Bristol is widely recognized as one of the most charming places. This hotel, which is located not far from Mediapark, has …
Open
Are you planning a romantic dinner? Or want to hang out and chill on fresh air? Then you must visit the Cologne's Yacht Harbour. It is located in the modern Rheinauhafen district. Every summer it turns out to the backdrop for a huge open-air cinema. If romantic dinner is still on your mind, then you must surprise your partner with the most incredible view of the city. At night, stroll along the Kennedy embankment and enjoy together a brightly lit cathedral behind the dark river, next to the steel arches of the Hohenzollern railway bridge. There is another choice - to rent a boat and pedal out on the lake in the middle of Cologne's southern Volksgarten park. The sounds of family barbecues waft from behind the large trees that surround the picturesque lake.
This guide on active recreation and leisure in Cologne is protected by the copyright law. You can re-publish this content with mandatory attribution: direct and active hyperlink to
www.orangesmile.com
.
City tours, excursions and tickets in Cologne and surroundings
Recommended places for active recreation and leisure in Cologne
Fiffi Bar
Where: Severinswall 35, Cologne;
All Bar One
Where: Friesenstr. 82, in the old town, Cologne; Metro: Friesenplatz;
Hammond Bar
Where: Metzerstrasse 25, in the south of the city, Cologne; Metro: Chlodwigplatz;
Photogallery of picturesque Cologne
Search for active leisure and attraction spots on Cologne map
City break ideas for neighbours of Cologne
Guide to your best city break in Cologne - popular places for recreation and leisure. Things to do during the day in Cologne - attractions, parks, beaches, aquaparks, racing tracks, biking trails or waterski. Recommendations (with addresses, phone numbers and links) where to spend your time in the evening (bars, discos, clubs, etc.). We share some good ideas and the question 'What to do in Cologne?' disappears immediately.