Colors of Chisinau - traditions, festivals, mentality and lifestyle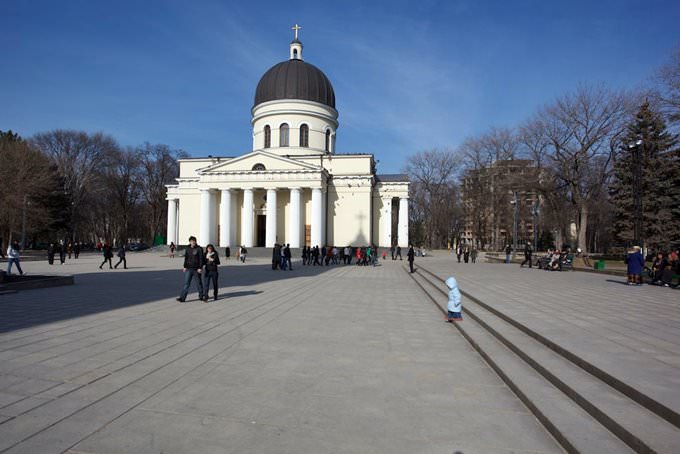 Cultural traditions of local people are very exciting and interesting; one of the main distinguishing features of the character is hospitality. Each house will certainly welcome guests with bread and salt and offer the best homemade wine. Guests shouldn't refuse those treats; they have to be accepted with gratitude. Be sure to thank the host for the meeting - this is the local custom. Townspeople celebrate a lot of interesting events; a festive table and an abundance of foods and drinks are main attributes of each holiday.
1. In Chisinau all kinds of public transport are present. You can travel around the city on the trams, trolleybuses, buses and taxis, the last ones cruise city streets from early morning to …
Open
The names of some local dishes may seem very complicated to foreign tourists, but the manner of cooking is quite simple. Every holiday 'moldovenesht', which stands for mixed vegetables wrapped in cabbage leaves or minced meat stewed in vegetable broth, is served. The homemade cheese – brynza - is always present on a table. Wine has remained the main celebratory drink for hundreds of years; on holidays owners put up the best table wines, which are also named 'Krama.'
Local festivals can't be imagined without the national game 'trynty.' Everyone is welcome to compete in the exercise of power; by tradition the winner of the game receives a gift ram. An equally important component of the national celebrations is a collective dance, where everyone can join. The Town Day is one of the most exciting events to take part, especially for travelers. In Chisinau it is celebrated on October, 14. On this festive day there are always exciting recreational activities, performances and fairs on the streets of the city. Copyright www.orangesmile.com
First mentions of this city appeared in 1466. For a long time Chisinau has been a boyar patrimony. Today this is a large historical and cultural center. For convenience the city is divided …
Open
The second Sunday in October is also a very important holiday - the New Wine Day. Chisinau attracts winemakers from all over the surrounding area, they treat citizens with sweet wine and latest ones, in turn, take part in the voting. In the evening winner is chosen by voting. Victory in this event is a real honor for every winemaker. It should be noted that the New Wine Day has been gaining popularity in other countries - connoisseurs come from different countries to try delicious drinks. Nationwide celebrations also differ with special traditions; local flavor is reflected in all spheres of citizens' life.
This guide to traditions and festivals in Chisinau is protected by the copyright law. You can re-publish this content with mandatory attribution: direct and active hyperlink to
www.orangesmile.com
.
Reference information
Cathedrals and basilicas near Chisinau
♥ Catedrala Providenţa Divină, Chişinău, 0.5 km from the center.
On the map
Photo
City tours, excursions and tickets in Chisinau and surroundings
Colors of Chisinau in photos
Search for popular touristic sites on Chisinau map
Traditions and festivals in cities around Chisinau
Cityguide on traditions, mentality and lifestyle of people in Chisinau. Learn the best periods to visit Chisinau to discover its soul - authentic festivals, events and celebrations. We will also reveal the interesting habits, attitude towards the world and to tourists in Chisinau.