Preparing your trip to Cape Town: advices & hints - things to do and to obey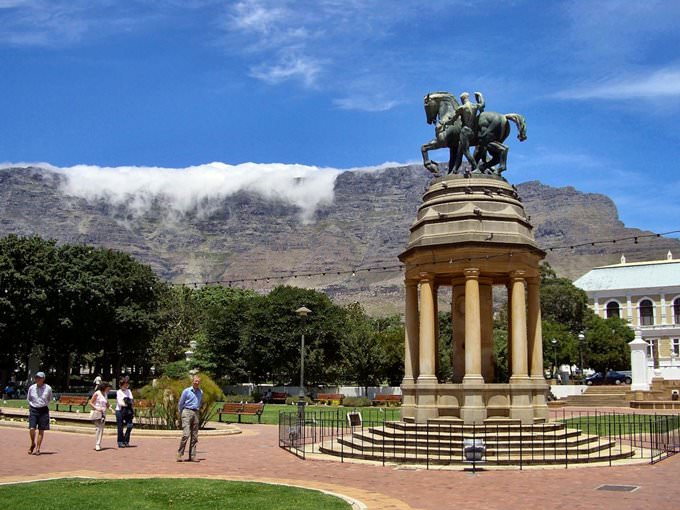 1.
The period from October to the end of November is considered the best time to visit Cape Town. During this period tourists will be able to catch the most favorable weather. Budget travellers are recommended to visit the city during the period from April to May. There are not many tourists in Cape Town in these months, and so the rates are the lowest. The period from late May to late July is the rainy season.
2. Bus remains the most popular form of public transport, but it should be used only by tourists who need to make long distance rides. If you need to make a short ride, taxi will be a better choice.
3. Do not forget to take a taxi on a special parking only. You will find these parking areas close to all shopping centers, large restaurants and major government agencies. Tourists can also call a taxi by phone. Stopping a free taxi in a street will be very difficult. The cost of a ride should be specified in advance. Not all the cars are equipped with counters.
4. It is very convenient to travel in the center of the city by bike, but travellers are not recommended to go to remote areas of the city using the two-wheeled transport. Atlantic Tourist Information Centre, Cape Info Africa, Downhill Adventures and Homeland Shuttle & Tours remain the most popular bike rental offices. Tourists should not forget that taking bicycles to trains and buses is prohibited.
5.
Do not forget to bargain in the local markets. This will help to reduce the price. In order to make sellers friendlier, tourists can learn a few phrases in the local language. They will be handy while bargaining. Copyright www.orangesmile.com
6. Foreign tourists are recommended to drink bottled water only. You will find it in any supermarket or grocery store. Do not forget to refrain from drinking to many cold beverages with ice, which are popular in local cafes. Tap water is not harmful to health, but it can seriously aggravate the process of acclimatization.
7. Many local restaurants are distinguished by very high prices, so the cost of food should be specified in advance. The most expensive eating places are located near the main streets beaches of the city. Budget restaurants and cafes are likely to be found in remote areas of the city.
Cape Town is famous for its natural and historical attractions. Recreation with children here can be incredibly fascinating. With young children, it is worth paying a visit to the Two Oceans …
Open
8.
Fans of surfing and diving should specify what areas of the coast are suitable for sports entertainment in advance. Not all beaches are suitable for swimming or sunbathing. According to local residents, some coastal areas attract sharks.
Preparing your trip to Cape Town: advices & hints - things to do and to obey You can re-publish this content with mandatory attribution: direct and active hyperlink to
www.orangesmile.com
.
What to visit being in Cape Town - unique sights
Bo-Kaap
From the series
"Top 13 Most Colorful and Picturesque Places on the Planet"
Check on the map:
Distance from Cape Town center - 0.6 km.
The walk through the picturesque Malay quarter will definitely please the sweet tooth, because on its territory the well-known chocolate factory was opened many years ago. The district will also please those travelers who like to bring many photos of the holiday. On the background of the colorful old villas, whose facades today are brightly colored, one can make many beautiful shots. …
Read further
Cape Town
From the series
"The Most Magical and Picturesque Cities in the World"
Check on the map:
Distance from Cape Town center - 0.7 km.
In some historic villas today there are small shops and cozy cafes, which makes a walk around the area even more interesting. It is also worth noting that the Bo-Cape district is located in one of the most beautiful areas of Cape Town, on the slope of the Signal Mountain, so some of the squares offer a chic panoramic view of the surroundings. Today, immigrants from Indonesia, Sri Lanka, Malaysia and other countries live in the most colorful area of Cape Town, so the area is interesting not only for its architecture, but also for its special cultural traditions. …
Read further
City tours, excursions and tickets in Cape Town and surroundings
South Africa: travelling advices
11. Eating on the street is not accepted unless it is ice cream.
12. Asians and whites in South Africa are usually punctual, but punctuality should not be expected from black and mixed South Africans.
13. Do not keep your hands in pockets when talking - this is regarded as disrespect. The V gesture meaning "peace" (index and middle fingers) with the palm turned backward is rudeness akin to the middle finger in Western culture. It is better to avoid gesticulating with your left hand, as many South Africans find this rude. You should always cover your mouth while yawning. Taking something, use both hands.
14. Admiring something that belongs to the South African, for example, at his home, it is important to know where to stop, otherwise the owner will feel obliged to present it. Light praise, on the contrary, is welcome. …
Open
Photos of Cape Town
Services search (pharmacy, police, parking, banks) on Cape Town map
Travelling to Cape Town - advices and tips. What should be provisioned in advance, the rules you might want to follow, and the things you better avoid doing in Cape Town. We help you to make your trip smooth and easy, with no unexpected surprises.