Cuisine of Brno for gourmets. Places for dinner - best restaurants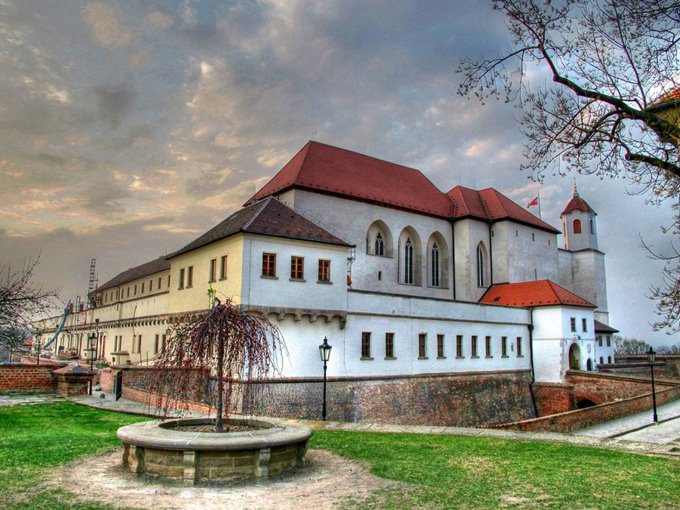 Brno offers its guests to visit a great number of restaurants and cafes. They will surprise visitors not only by the largest choice of food and versatility of culinary directions, but also by cozy atmosphere and high level of service. Green restaurant is able to please not only most discerning gourmets, but also visitors who enjoy relaxing in nature. Its hall resembles a beautiful fragrant oasis. The restaurant is decorated with live plants and flowers. In addition to popular national dishes, guests are welcome to order fine wine. Drinks in Green restaurant are imported from Argentina, Portugal, France, Spain, Chile and other countries.
Brno is an ancient Czech city that is rich in different traditions and customs. This place is also known as the largest winery center of the country. Brno has a long history and sometimes …
Open
Kaskáda restaurant will be simply the best choice for rest of a big company and various celebrations. This restaurant also specializes in the preparation of dishes of the national cuisine. Friendly and professional staff at Kaskáda will surely organize any celebration at the highest level. A small cozy restaurant of Sherlock Holmes is located in the center of the city. The restaurant is very popular among both locals and foreign tourists. Among the specialties of the restaurant guests will find such amazing dishes as mushroom soup with chicken, stuffed duck breasts and excellent side dishes made of pumpkin. When it's dessert time, guests will be offered to order home-made cake with fruit filling.
La Braseria is considered the best restaurant dedicated to Italian cuisine. Here visitors will be offered to try not only popular national delicacies, but also a great selection of wine delivered from various provinces of Italy. The specialties of La Braseria include baked chicken, which is usually served with a delicate sauce made of green peas. Garden is another popular restaurant that will surprise its guests not only by a wide choice of Czech dishes, but also by unique interior decoration. The center of the hall features a large fountain, which is skillfully decorated with spectacular lighting system. The menu of Garden will be surely loved by fans of meat delicacies. Here you are welcome to order pork chops, roast pork with sauerkraut, and a huge choice of other interesting delicacies. Copyright www.orangesmile.com
A lot of entertainment centers operate in Brno. Only three zoos for vacationers with children are available, so there will definitely not be a lack of choice of entertainment here. The …
Open
Asia is a restaurant specializing in Chinese cuisine. This is the place where visitors are welcome to try traditional Beijing duck, beef cooked in accordance with a special recipe, and a huge choice of other exotic culinary delights. In addition to exquisite and delicious dishes visitors are welcome to order rice vodka, which is a popular national drink. Almost every street of the city is the location of attractive cafes and bistros, the choice of dishes in which is no less impressive. In the evening guests of the city are welcome to visit numerous bars, where usually like to gather sports fans and beer lovers.
This guide to cuisine and restauraunt in Brno is protected by the copyright law. You can re-publish this content with mandatory attribution: direct and active hyperlink to
www.orangesmile.com
.
Where to go for dinner in Brno: recommended cafe and restaurants
Pod Radnicnim Kolem (under The Town Hall Wheel)
Where: Mečová 5, Brno; Telephone: 420 542 211 135;
Taj
Where: Běhounská 12, Brno; Telephone: +420 542 214 372;
Avatar Restaurant
Where: Mendlovo náměstí 10, Brno; Telephone: +420 543 234 733;
U Šaška A Krále (at The Jester And The King)
Where: Dominikánská 7, Brno; Telephone: +420 543 235 015;
Restaurace Slavia
Where: Solniční 15, Brno; Telephone: +420 542 321 249;
Zemanova kavárna
Where: Jezuitská 6, Brno; Telephone: +420 542 218 096;
Rebio
Where: Orlí 26, Brno; Telephone: +420 542 211 110;
City tours, excursions and tickets in Brno and surroundings
Brno in photo set
Searching where to eat - restaurants and cafe on Brno map
Cuisine and restaurants in the neighbours of Brno
Travel notes on best cuisine and restaurants of Brno (Czech Republic) on OrangeSmile.com. Famous recipes and traditional dishes and courses in Brno restaurants. Where to eat - our recommendations on popular places in Brno, where you can taste delicious meal and also spend a good time with your friends.