City break in Baltimore. Active leisure ideas for Baltimore - attractions, recreation and nightlife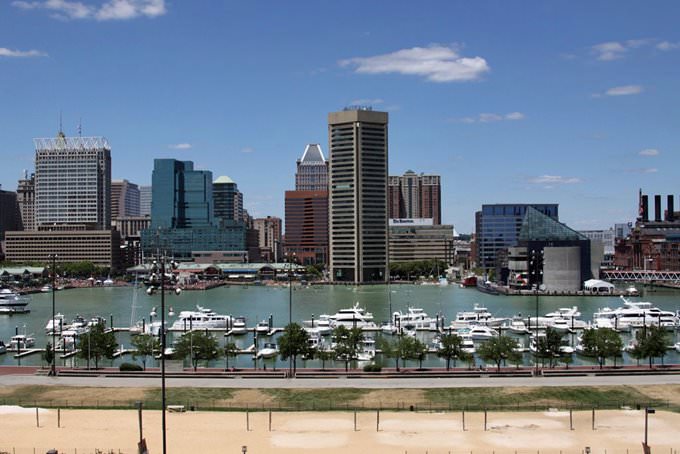 Baltimore is a perfect place for fans of nightlife, noisy discos and amazing shopping trips. Various shops, small markets and original clubs that will be definitely liked by music lovers can be easily found virtually on every street of the city. Cat's Eye Pub is considered one of the most popular night time rest destinations in Baltimore. That is a club, a disco, and an excellent bar. The club accepts guests every day, but we suggest visiting this entertainment facility on weekends as on this time of a week the club traditionally organizes exciting theme parties for its visitors. Cat's Eye Pub also regularly becomes the venue for performances of popular music bands. The Horse You Came In On Saloon club is a no less attractive entertaining institution. The most notable fact about this club is exciting and energetic discos and parties that usually last here until dawn. This is the place where you can hear the music of the most progressive areas, but visitors are also welcome to attend the so called "retro parties".
Baltimore is one of the most popular cities for tourists in Maryland State. It was founded in 1729 and for many years Baltimore was the main port city of the US. Nowadays this is one of the …
Open
Of course, there are various comedy clubs in the city, the most famous of which is Comedy Factory. The club is located near the center of the city, and so it is always visited by a large number of locals and tourists. If you plan to visit Comedy Factory, it is better to order seats in advance. When it comes to entertainment centers, Mustang Alleys definitely occupies the leading position. On the daytime the majority of its customers prefer to play bowling and taste delicious dishes in the local cafes, and at night guests attend the center's nightclub and bar. Fans of shopping will simply be not able to ignore Baltimore Farmer's Market, which is located just a few steps away from the center of Baltimore. Fresh products, unique gifts and crafts, and beautiful antiques – during weekend days the market is always full of visitors.
Power Plant trading center is also a great place where visitors can find widest choice of different goods. Here are located numerous fashion boutiques, jewelry shops and perfume shops. When you get tired and wish to take a break from exploring the boutiques, we suggest visiting one of the local cafes. Harborplace & The Gallery trading center also offers visitors to buy various clothes, shoes and perfumes produced by the world's leading brands at very attractive prices. The local shopping pavilions often organize various sales on which visitors are free to buy various goods of the excellent quality offered with a huge discount. Collectors and those travellers, who want to purchase antiques as souvenirs, are recommended to visit the antique shop called Lexington Market. Many people attend it just because of curiosity - the hall of the antique shop is more like a museum than an ordinary store. Copyright www.orangesmile.com
Baltimore is famous for its casinos and museums. Suitable places for relaxation can also be found for travelers with children. They should definitely look into the National Aquarium, which …
Open
After fatty American snacks, you will need to burn some calories and the best way to do this is to rent a bike and organize a self-guided excursion to the Little Italy of Baltimore. The Italian district which is the immediate vicinity of the harbor. Here lives a large Italian community, so you will be definitely transferred to this authentic atmosphere. Little Italia in Baltimore is a cozy area with a lot of national restaurants and shops. It is also one of the safest parts of the city. Also, you can have a bike trip to the Fells Point - the area located east of downtown - once a favorite place of entertainment for sailors. Now Fells Point is filled with shops, bars (more than 120), galleries. This is a popular place for visits, you can get to it, in particular, by a water taxi.
Next:
Tips for tourists
This guide on active recreation and leisure in Baltimore is protected by the copyright law. You can re-publish this content with mandatory attribution: direct and active hyperlink to
www.orangesmile.com
.
Reference information
National and city parks around Baltimore
♥ Local Park 'Collington B' , 1.2 km from the center.
On the map
Photo
♥ State Park 'Patterson' , 3.1 km from the center.
On the map
Photo
♥ Local Park 'Carroll' , 3.7 km from the center.
On the map
Photo
♥ Local Park 'Leakin' , 7.4 km from the center.
On the map
Photo
♥ Local Park 'Armistead' , 11.2 km from the center.
On the map
Photo
Amusement parks near Baltimore
♥ Amusement park 'Laugh Out Loud Stations' Greenbelt, 41.2 km from the center.
On the map
Photo
♥ Amusement park 'Six Flags America' Upper Marlboro, 44.8 km from the center.
On the map
Photo
♥ Amusement park 'Adventure Park USA' New Market, 58.1 km from the center.
On the map
Photo
♥ Amusement park 'Dutch Wonderland' Lancaster, 88.8 km from the center.
On the map
Photo
♥ Amusement park 'Blue Diamond Park' New Castle, 91.8 km from the center.
On the map
Photo
Water attractions around Baltimore
♥ Water park 'Great Waves Waterpark' Alexandria, 68.4 km from the center.
On the map
Photo
♥ Water park 'Splash Down Waterpark' Manassas, 92.9 km from the center.
On the map
Photo
♥ Water park 'The Boardwalk at Hersheypark' Hershey, 111.1 km from the center.
On the map
Photo
♥ Water park 'Dorney Park & Wildwater Kingdom' Allentown, 170.4 km from the center.
On the map
Photo
City tours, excursions and tickets in Baltimore and surroundings
Sites around Baltimore from our surveys on extreme Earth places
Baltimore City Hall
From the series
"Famous Buildings of Renaissance Architecture"
Check on the map:
Distance from Baltimore center - 0.2 km.
Charles A. Hopkins stormed the temporary City Hall with a handgun and killed a member of the Baltimore City Council. Hopkins angered that his restaurant was being shut down under the court decision. He was found not guilty by reason of insanity. The old Baltimore City Hall has seen several unusual stories in its life. Nevertheless, a lot of travellers pay more attention to Hall's architecture, not on history. …
Read further
Union Station
From the series
"Top 14 Most Astonishing Railway Stations in the World"
Check on the map:
Distance from Baltimore center - 55.3 km.
The first station was built there in the 19th century and called La Grand. Today's building has appeared at the place of the old one in 1939. In 1980 the railway station was included in a list of the state meaning monuments. Visitors of Los Angeles like to come at this place. There you can take wonderful photos, adore with the painted marble tessrera and even walk in a romantic inner yard. …
Read further
Car rental on OrangeSmile.com
Photogallery of picturesque Baltimore
Search for active leisure and attraction spots on Baltimore map
City break ideas for neighbours of Baltimore
Guide to your best city break in Baltimore - popular places for recreation and leisure. Things to do during the day in Baltimore - attractions, parks, beaches, aquaparks, racing tracks, biking trails or waterski. Recommendations (with addresses, phone numbers and links) where to spend your time in the evening (bars, discos, clubs, etc.). We share some good ideas and the question 'What to do in Baltimore?' disappears immediately.