Preparing your trip to Baltimore: advices & hints - things to do and to obey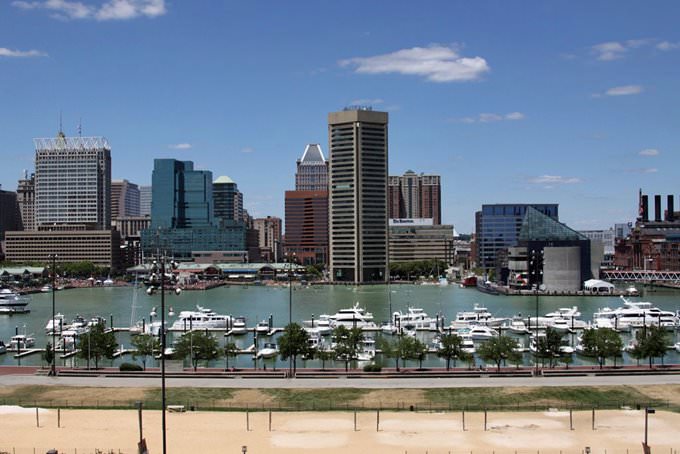 1.
Breakfast is not included in the cost of accommodation in vast majority of hotels. An additional fee may be charged for meals either during your checkout in a hotel or directly at a restaurant after each visit.
2. The closer a gastronomic institution is located to a hotel, the higher is the cost of meals. Tourists, who expect to save on food, are recommended to visit cafes and restaurants that are located in one of the numerous malls of Baltimore.
3. The power supply voltage is 110 V, so you may need a special adapter to use certain appliances. Sockets are also different from the European standard, so you will also need a special adapter for your gadgets with European sockets.
4. The local people are very careful to consuming the natural resources, so guests of the city's hotel should also be economic when using water and electricity.
5.
Phone calls are better to be done from special machines, which can be found near every major shopping center or a state agency. As a rule, phone calls from a hotel are distinguished by the most expensive rates. Copyright www.orangesmile.com
6. Do not forget to leave tips in the local restaurants and cafes. The average size of tips estimates 10 - 15% of the total bill. A concierge and a maid in your hotel should also receive a small reward.
7. If you want to rent a car, you will need a driver's license of the international class and a credit card. Persons under 21 and those travellers, who have received a driving license less than two years ago, may be rejected to rent a car. As a rule, cars can be rented for a period from 1 to 58 days.
Baltimore is a major port city which was founded in 1729. The city and its residents carefully cherish the historical monuments of the past, so Baltimore never ceases to attract travelers …
Open
8.
Those travellers, who expect to travel on a rented car with children, will also need to rent a special children's chair. An additional payment for renting a chair will be small, and a fine for violating this rule is really big.
9. Persons under 21 cannot order alcoholic beverages in the bars and restaurants of the city. Also, persons under 18 are not allowed to participate in the cruises and field trips that involve the presence of an additional service of alcoholic beverages on their own.
10.
Tourists should not make a walk to remote areas of the city alone even in the daytime as these regions can be quite unsafe. The best way to explore remote areas of Baltimore is together with a guide or in a large tourist group.
Preparing your trip to Baltimore: advices & hints - things to do and to obey You can re-publish this content with mandatory attribution: direct and active hyperlink to
www.orangesmile.com
.
What to visit being in Baltimore - unique sights
Fort Carroll
From the series
"Famous abandoned military bases and forts"
Check on the map:
Distance from Baltimore center - 11 km.
In the United States, on the territory of the state of Maryland is a unique island-fort of Carroll. It was built in the middle of the 19th century and was used as an army training ground during the Second World War. After the end of the war the fort came to desolation. Since the time of the creation of the man-made island, there has always been a shortage of funds for the fort's construction. Its final appearance was strikingly different from the original plan. …
Read further
Great Depression Monument
From the series
"The most unusual statues and monuments"
Check on the map:
Distance from Baltimore center - 58 km.
In Washington, next to the memorial Franklin Delano Roosevelt is the Great Depression Monument. Five bronze figures of men, who are frozen in the patient poses symbolize a series around bread. During the Great Depression the ranks around the free foods were much longer. The author of the sculpture composition is George Segal, the well-known American sculptor and painter. …
Read further
City tours, excursions and tickets in Baltimore and surroundings
Photos of Baltimore
Services search (pharmacy, police, parking, banks) on Baltimore map
Tips for the cities around Baltimore
Travelling to Baltimore - advices and tips. What should be provisioned in advance, the rules you might want to follow, and the things you better avoid doing in Baltimore. We help you to make your trip smooth and easy, with no unexpected surprises.