City break in Arezzo. Active leisure ideas for Arezzo - attractions, recreation and nightlife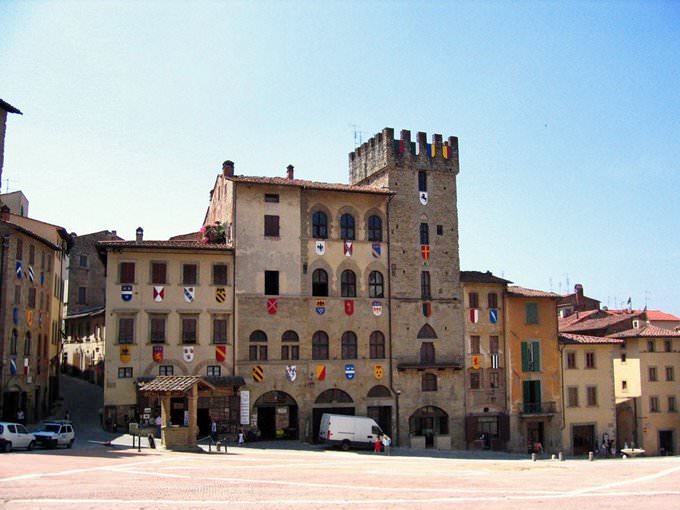 The exploration of the beautiful Tuscany province usually starts with Florence. After that, classic traveler's guides suggest visiting Chianti and explore its vineyards, admire the hill towns in the area of Montepulciano and Montalcino, visit Siena or move to Pisa. At the same time, the eastern part of Tuscany often gets little attention. That can even be an advantage as the vibrant capital of the region, Arezzo, is not too crowded and not spoiled by endless hordes of tourists. It's a great place to experience the authentic life of the province, see beautiful landmarks, and enjoy various activities.
Valdichiana Outlet Village is the most popular outlet in Arezzo, where your favourite brand clothes is available with big discounts at any time of the year. The outlet presents clothing …
Open
The city is incredibly rich in architectural landmarks, but there are almost no crowds. Its relaxed atmosphere is ideal for a family vacation or a romantic breakaway. Medieval castles, Romanesque chapels, Franciscan monasteries, and fine restaurants – tourists will find many places to attend in Arezzo. In addition to sightseeing, there are places to explore for fans of natural landmarks. The Wood Sarge is an incredibly beautiful forest located close to the Convent of Sarge. Visitors can attend short excursions or simply choose to make a stroll and admire the perfectly preserved nature. If you stay there till night, you may see common raptors of the region, such as Barbagianni owls.
Tourists, who seek adventure, are recommended to visit the Park of Lignano. It's a gorgeous nature reserve on Mount Lignano. Between Arezzo, Laterina, and Civitella in Val di Chiana, there is one more nature reserve – Ponte Buriano. It covers an area of 665 hectares that are mostly covered with forests and lush vegetation. Oakwoods have become home to various animals. Ponte Buriano also attracts fans of birdwatching. It's a great place to see osprey, cormorants, and many other species in their natural habitat. Copyright www.orangesmile.com
Arezzo is a small and cozy town that has managed to keep its medieval glory tenderly and cover it with wonderful modern tendencies. The most notable place from the historic point of view is …
Open
It's not hard to reach Ponte Buriano, so the park is suitable for families. The Visitor Center helps tourists to find the most suitable means of transport. Moreover, there is a direct Setteponti route from Arezzo to the nature reserve. If you have a full day to spend, consider making a trip to Monterchi and Sansepolcro. These towns are a must-visit destination for fans of art as it's a fabulous opportunity to see precious frescoes by Piero della Francesca. For everyone else, it's a great way to get acquainted with the beautiful rural part of Tuscany. All the areas are easy to reach by bus.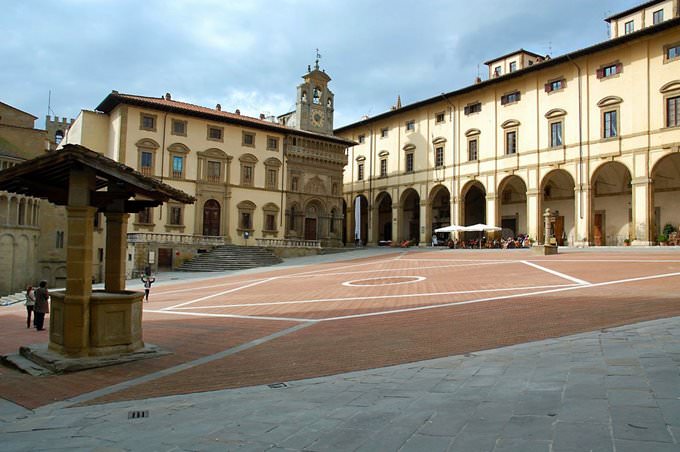 The charming village of Monterchi is located approximately 24 kilometers away from Arezzo. This small settlement possesses one of the greatest works by Piero – the Madonna del Parto. The precious work was carefully restored twenty years ago and is now kept in a protective glass box with climate control. The next stop on the way is Sansepolcro that is located approximately 16 kilometers away from Monterchi. The hometown Piero, Sansepolcro is an ancient town with many beautiful churches and palaces. Museo Civico exhibits a collection of precious works by the maestro, including the famous Resurrection fresco. While exploring the gorgeous architecture of the town, visit one of the local restaurants to enjoy home food and old-fashioned service. Local food specialties include tortelli with potato, cherry tomatoes, and basil.
Minimalism is the main distinguishing feature of local cuisine. Local chefs pay attention to the taste of dishes first and foremost, while beautiful décor and unusual serving are considered …
Open
Fans of shopping simply cannot fail to visit The Antiques Market in Arezzo. It's a major event that draws nearly 20,000 visitors including sellers and tourists. The market is open on the first Sunday of every month and the Saturday before it. This is the time when Piazza Grande is filled with stalls that offer virtually everything – old furniture, coins, music instruments, antique clocks, silverware, paintings, and many more. The market started working in 1968 and currently attracts more than 500 exhibitors and over a hundred of smaller shops. Both connoisseurs and bargain hunters will easily find something to fit their taste and budget there.
This guide on active recreation and leisure in Arezzo is protected by the copyright law. You can re-publish this content with mandatory attribution: direct and active hyperlink to
www.orangesmile.com
.
City tours, excursions and tickets in Arezzo and surroundings
Sites around Arezzo from our surveys on extreme Earth places
Siena
From the series
"Monochromatic Cities - Stunning Views"
Check on the map:
Distance from Arezzo center - 46.2 km.
The Cathedral was built in the 13th century but even now it adores people not only with its magnificent external view but also with the inner black and white marble decoration. More than that, there was saved an old library. Thanks to that, every visitor can see a Bibliotheca of the unique handwrites and rather rare books. Fort Santa Barbara is one the most popular relaxation places of tourists. This huge strengthening structures were built in the middle of the 16th century and saved the city from the enemies. Today on the territory of the fort has placed an unusual theatre. In warm seasons there are holding outstanding open-air plays. …
Read further
Old Town of Pienza
From the series
"16 Most Fascinating Objects of Unesco in Italy"
Check on the map:
Distance from Arezzo center - 46.4 km.
The town isn't only famous for the historical buildings but also there has placed a unique natural and cultural landscape Val d'Orcia. The main speciality of this area is the wonderful hills of right bell-mound. In summer they are covered with high green grass and wildflowers. Nice hills attract a lot of artists for hundreds of years. The best way to explore the city is on foot. Walking will open you a lot of secrets that are covered by the car travellers. During the walk around the square, you will see that the old buildings look different from various sides. …
Read further
Basilica di Santa Croce
From the series
"The Most Elegant Buildings of Baroque Architecture"
Check on the map:
Distance from Arezzo center - 58.7 km.
During the excursions around the Basilica di Santa Croce you can see shrines of famous 19th-century Italian poet Ugo Foscolo, the composer Gioachino Rossini, philosopher Niccolò Machiavelli and other notable people of culture and art. All in all, the church has 300 shrines and each is decorated with an informational nameplate and sculptural composition. In 1966 the Basilica was drastically destroyed from the flooding and some old artefacts were damaged. The most mysterious artefact of the church is the Taddeo Gaddi fresco's "The Last Supper". It was made in 1333 and is decorating one of the frater's wall. This fresco is coved by a number of legends and unbelievable fictions. …
Read further
Car rental on OrangeSmile.com
Photogallery of picturesque Arezzo
Search for active leisure and attraction spots on Arezzo map
City break ideas for neighbours of Arezzo
Guide to your best city break in Arezzo - popular places for recreation and leisure. Things to do during the day in Arezzo - attractions, parks, beaches, aquaparks, racing tracks, biking trails or waterski. Recommendations (with addresses, phone numbers and links) where to spend your time in the evening (bars, discos, clubs, etc.). We share some good ideas and the question 'What to do in Arezzo?' disappears immediately.