City break in Amersfoort. Active leisure ideas for Amersfoort - attractions, recreation and nightlife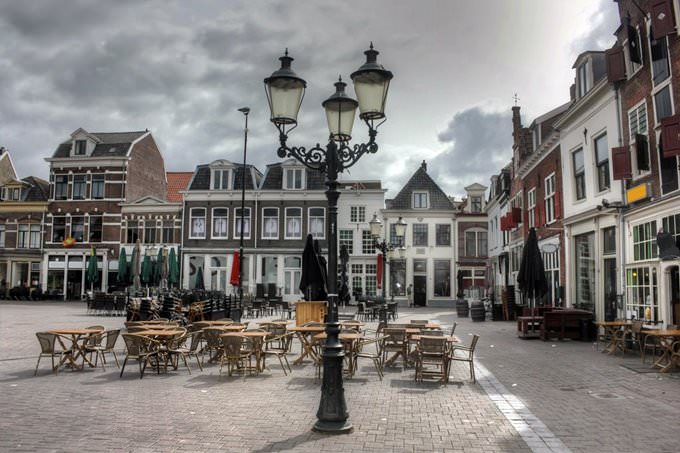 Those tourists who have chosen the Amersfoort as a destination for holiday will be able a wide variety of activities. Here you will enjoy fine pubs, where every evening interesting cultural programs are organized. In local bars, you will be offered to try the best varieties beer. Fans of night entertainment will also be able to choose a club to their liking. In Jackson nightclub, which serves as a cafe in the daytime, you can spend a relaxing evening at the bar full of delicious cocktails, and have wild parties on the dance floor. The same system as the Jackson has popular among locals Fiji club. Here you can dance all night on the raised dance floor. The busiest time in the club is on Friday and Saturday nights. Lapart is the true institution for gays in Amersfoort. It is filled up every Saturday night, and everyone is welcome here.
The brightest tourist attraction of Amersfoort is the beautiful Toren Tower. Once the 94-meter-high Woman's Tower was part of a large-scale construction - the Lange Jan cathedral. …
Open
If you love wild parties then go to the Flur nightclub. On a weekly basis, here perform various artists, bands, and DJs with bright shows. This is the most famous pop stage in Amersfoort. The tickets you can purchase online from the official website. The Miles is the outstanding live music cafe of Amersfoort. If you love jazz music, so surely you will enjoy a Jazz Jam Session every Thursday night here. Every Friday, a different artist perform on Friday night, Saturday nights are dedicated to DJ's performances. The Curtis is the popular cafe for students of Amersfoort. There's something to do here almost every night, like a quiz night, a student night and Saturday night with DJs. Real rockers can also find their place in Amersfoort. With the Boothill Saloon, with cowboy boots dangling from the ceiling, you can have a beer, listen to rock and play some pool.
Fans of ecological tourism will enjoy numerous city parks, squares, and picturesque suburban areas. Tourist routes pass through the most beautiful natural places, so you can breathe fresh healthy air and enjoy amazing presents by nature. Perhaps the most famous entertainment center in Amersfoort is the park Walibi Land. Visit it will be interesting not only to small travelers but also to their parents. Every day in the park there are bright shows and performances. Fans of thrill and adrenaline rush can try out the most incredible attractions in action. The most popular attraction of the park is the El Rio Grande, the rafting along which will bring a lot of impressions to those who are not indifferent to water attractions. Copyright www.orangesmile.com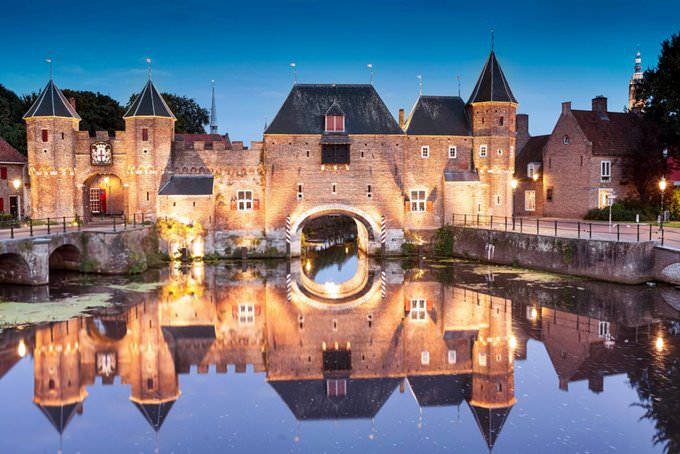 The best way to enjoy the panorama of a picturesque city is to take a ride on a balloon. Such ariel excursions are very popular with visitors and especially for tourists. In the city, there is a special platform from where huge colorful balloons fly up. This "air" walk became kind of ritual, which every traveler should try, so do not be an exception! For those who are afraid of heights, there is no less attractive option - to ride a boat along the canals of the city and to appreciate the unique architectural sights. An important sight-seeing facility is an old cemetery, where Soviet soldiers who died during the Second World War are buried. More than 800 people rest in peace in the cemetery. Despite the fact that the attraction has a rather gloomy status, it is visited by many visitors. The entrance to the cemetery is decorated with a screw from the old Soviet aircraft.
This guide on active recreation and leisure in Amersfoort is protected by the copyright law. You can re-publish this content with mandatory attribution: direct and active hyperlink to
www.orangesmile.com
.
Sites around Amersfoort from our surveys on extreme Earth places
Keukenhof Flower Park
From the series
"Top 16 most unusual and original parks and gardens"
Check on the map:
Distance from Amersfoort center - 58.7 km.
Currently, the park area occupies ​​32 hectares. Each year, about 7 million flowers are planted on its territory. In addition, the park features more than 90 species of trees, as well as artificial lakes, ponds, canals, and streams. Keukenhof is made for walking, so the length of all its footpaths is around 15 km. Romantic natures will be able to travel around the lakes and canals by boat. Fans of art will love the park too, as it has a rich collection of sculptures of different eras. The youngest guests are sure to enjoy an entertainment complex, as well as a farm with animals. …
Read further
Lisse Tulip Fields
From the series
"Top 13 most colorful and picturesque places on the planet"
Check on the map:
Distance from Amersfoort center - 57.9 km.
In total, more than three billion flowers are planted annually on plantations. Almost all flowers grown on plantations are exported to the other countries. Tourists traveling to Lisse can visit the beautiful plantations as part of a bus excursion. The followers of the more original entertainments, prefer to enjoy the colorful landscape during the helicopter excursion. From the height you can appreciate the size of the plantations and their harmonious shape. …
Read further
Electric Ladyland Fluorescent Museum
From the series
"15 unofficial man-made wonders of the world"
Check on the map:
Distance from Amersfoort center - 42.5 km.
In recent years, the museum's collection replenished with a variety of unusual sculptures. The layout of the Earth and a huge statue of Shiva are among the most impressive ones. Visit to the amazing museum in Amsterdam promises to be not only memorable, but also very informative event. Guests will learn about using fluorescence in contemporary art, industry and even marketing. They will understand how the thinnest ray of light is able to turn even an ordinary gray stone into a priceless piece of art. …
Read further
Car rental on OrangeSmile.com
Photogallery of picturesque Amersfoort
Search for active leisure and attraction spots on Amersfoort map
City break ideas for neighbours of Amersfoort
Guide to your best city break in Amersfoort - popular places for recreation and leisure. Things to do during the day in Amersfoort - attractions, parks, beaches, aquaparks, racing tracks, biking trails or waterski. Recommendations (with addresses, phone numbers and links) where to spend your time in the evening (bars, discos, clubs, etc.). We share some good ideas and the question 'What to do in Amersfoort?' disappears immediately.