Preparing your trip to Alkmaar: advices & hints - things to do and to obey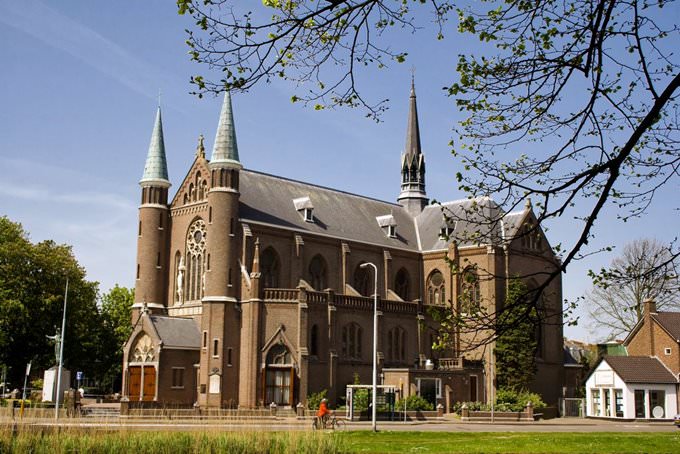 1.
The historic city center is easily accessible by public transport. Those who're planning to visit the suburban areas of Alkmaar and travel by train are advised to buy tickets in special vending machines offering the lowest prices. They can be found at all major train stations. But keep in mind that such machines do not give change, so you should prepare small bills and coins in advance.
2. Go to shops located next to Waag Square for memorable souvenirs. Besides traditional miniature statuettes of mills and tulips, a popular souvenir is cheese. At the fair, you can choose any variety you like.
3. The best time to visit the city is between mid-April and October when cheese fairs are held here every Friday.
4. A popular city transport is a bicycle, traveling on which is much more convenient than by car. The city has a huge number of bicycle rentals, and the most expensive are those that are located near large hotels. Special bicycle paths are laid along all major roads, and next to many city attractions, restaurants, and shopping malls, you can find specially-equipped bicycle parking.
5.
You can rent a car in one of the many rental points. To do this, you will only need the international driver's license and a credit card. It should be noted that there are very few parking lots in Alkmaar, which makes traveling around the city quite difficult. Copyright www.orangesmile.com
6.
The famous Waag (Weigh House) building houses the largest tourist information office in the city. Here you can learn more about upcoming cultural events, clarify the working hours of museums and galleries, as well as the cost of tickets for certain events.
Preparing your trip to Alkmaar: advices & hints - things to do and to obey You can re-publish this content with mandatory attribution: direct and active hyperlink to
www.orangesmile.com
.
What to visit being in Alkmaar - unique sights
Electric Ladyland Fluorescent Museum
From the series
"15 Unofficial Man-Made Wonders of the World"
Check on the map:
Distance from Alkmaar center - 29.9 km.
The opening of the museum took place in 1999. The ground floor houses an amazing gallery with paintings that glow in the dark. Visitors have an opportunity to buy any exhibit they like and carry a piece of the unique museum home. In addition to static installations, the collection of natural minerals that glow in the dark is worth noting. All those mineral were brought by the owner of the museum from different parts of the world. …
Read further
Sauna Deco
From the series
"Most Extraordinary Thermaes, Baths and Saunas in the World"
Check on the map:
Distance from Alkmaar center - 30.1 km.
A real Turkish hammam is available to visitors of the Deco complex, as well as two saunas and a hydromassage pool. A courtyard is equipped with a beautiful seating area with a terrace and a garden. Another attractive feature of the sauna is a high-class massage parlor, which employs some of the best specialists in the city. The history of the bath complex is very interesting and inextricably linked to the famous Parisian department store Le Bon Marche. …
Read further
City tours, excursions and tickets in Alkmaar and surroundings
Photos of Alkmaar
Services search (pharmacy, police, parking, banks) on Alkmaar map
Tips for the cities around Alkmaar
Travelling to Alkmaar - advices and tips. What should be provisioned in advance, the rules you might want to follow, and the things you better avoid doing in Alkmaar. We help you to make your trip smooth and easy, with no unexpected surprises.