Preparing your trip to Alkmaar: advices & hints - things to do and to obey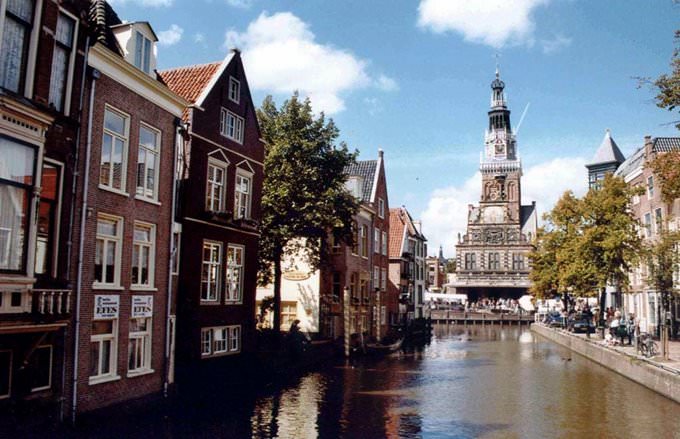 1.
The historic city center is easily accessible by public transport. Those who're planning to visit the suburban areas of Alkmaar and travel by train are advised to buy tickets in special vending machines offering the lowest prices. They can be found at all major train stations. But keep in mind that such machines do not give change, so you should prepare small bills and coins in advance.
2. Go to shops located next to Waag Square for memorable souvenirs. Besides traditional miniature statuettes of mills and tulips, a popular souvenir is cheese. At the fair, you can choose any variety you like.
3. The best time to visit the city is between mid-April and October when cheese fairs are held here every Friday.
4. A popular city transport is a bicycle, traveling on which is much more convenient than by car. The city has a huge number of bicycle rentals, and the most expensive are those that are located near large hotels. Special bicycle paths are laid along all major roads, and next to many city attractions, restaurants, and shopping malls, you can find specially-equipped bicycle parking.
5.
You can rent a car in one of the many rental points. To do this, you will only need the international driver's license and a credit card. It should be noted that there are very few parking lots in Alkmaar, which makes traveling around the city quite difficult. Copyright www.orangesmile.com
6.
The famous Waag (Weigh House) building houses the largest tourist information office in the city. Here you can learn more about upcoming cultural events, clarify the working hours of museums and galleries, as well as the cost of tickets for certain events.
Preparing your trip to Alkmaar: advices & hints - things to do and to obey You can re-publish this content with mandatory attribution: direct and active hyperlink to
www.orangesmile.com
.
What to visit being in Alkmaar - unique sights
Hash Marihuana Hemp Museum
From the series
"Strange, weird and unusual museums amusing its visitors"
Check on the map:
Distance from Alkmaar center - 30.7 km.
The hemp was used for cooking, from this grass the remedies were made of many diseases and even fabric and paper. The large collection of exhibits illustrates this remarkable fact: in the museum one can see the old medical books and recipes, the beautiful clothes and even the old Heupräparate. Part of the exposure is dedicated to 'the smoke side of the question'. Here is a rich collection of old pipes, shisha and other smoking accessories presented. …
Read further
Pythonbrug
From the series
"The most unusual and strange bridges on Earth"
Check on the map:
Distance from Alkmaar center - 31.9 km.
The bridge connecting Borneo Island with the Sporenburg Peninsula was opened in 2001. The bridge is located in the center of Amsterdam, next to the striking historical monuments. The workers of the architectural office West 8 decided a few years ago to refresh the center of the city and built this strange high-tech bridge, which reminds of the huge winding python. …
Read further
City tours, excursions and tickets in Alkmaar and surroundings
Photos of Alkmaar
Services search (pharmacy, police, parking, banks) on Alkmaar map
Tips for the cities around Alkmaar
Travelling to Alkmaar - advices and tips. What should be provisioned in advance, the rules you might want to follow, and the things you better avoid doing in Alkmaar. We help you to make your trip smooth and easy, with no unexpected surprises.