In Sydney beach fans will be able to visit the unique The Icebergs pool. This amazing pool is located on the area of Bondi Beach. Its opening took place more than 80 years ago. Initially, the pool was created specifically for life-guards. It was one of the few open-air pools in the world with an artificial heating system. This feature allowed life-guards to train even in winter. Today this unique pool is available for all-the-year-round recreation to all.
Since the opening of the pool, the local life-guards have preserved an interesting tradition. With the onset of winter before diving into the pool, they first throw into it pieces of ice, and then all together jump into the water. Those, who want to relax in one of the world`s greatest pools, should take into account that the entrance is paid and it costs about 5 Australian dollars. The opening of an amazing pool on the stony coast took place in 1929. It forms a united complex with the life-guards training club.
For the history of the club's existence, more than 700 famous sportsmen came out of its walls. The traditional opening of the winter season in the club usually falls on the first Saturday of May. Bondi Beach is remarkable for the presence of high waves, so it is not the best way for a comfortable beach relaxation. The construction of the pool is such that sometimes strong waves overwhelm its edges and it makes the vacation even more unique. Near the pool there are several comfortable recreation areas, it will be a pleasure even for travelers with children to relax here.
Next - Park Hyatt Tokyo Pool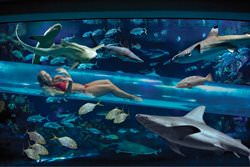 Golden Nugget Pool, USA
Park Hyatt Tokyo Pool, Japan
Back to the start "The Most Amazing Swimming Pools in the World"
Useful staff nearby
ATM bankomat: 'Cashcard ATM' located in 0.26 km (
check the route on the map
).
Car rental office: 'Ascot Car Rental' is located in 0.08 km (
on the map
).
Fuel station: 'BP' in 0.7 km
Supermarket: 'Berri Patch Bondi Beach' in 0.13 km
Parking: 'Hotel Bondi Guest Carpark' in 0.62 km
Apotheek: 'Healthsense Pharmacy' in 0.09 km
Police station: 'Bondi Beach Police Station' in 0.55 km
Cafe/restaurant: 'Curry Affair Indian Restaurant' in 0.08 km
Railway station: 'Bondi Junction' in 2.25 km