One of the greatest Mezquita Mosque is situated in Spain town Córdoba. This 24 000 square meter mosque was saved from the Medieval. It has been built from 785 year until the beginning of the 11th century. This mosque has not only a rich historical background but also a unique architectural style and the inner decoration.
There were used the rarest types of marble and semiprecious stones. Today in the interior has saved 856 columns and arches made from jasper and onyx. The Medieval edifice also has a richly gilded prayer niche or mihrab. In the 13th century, the luxurious mosque was rebuilt in a Christian church. Since that time until the end of the 18th century, it has been changing.
Mezquita Mosque is still the most visited sightseeing not only in the town but also in whole Andalusia. Every year more than half of a million people from the whole world come to adore with the mosque. One of the most mysterious elements of the ancient mosque is mihrab. In every world mosque, it is oriented to the Mecca. Mezquita Mosque doesn't follow this rule. There is no precise explanation of why it is so. Some experts say that the mihrab is oriented on the river where landed Emir Abd al-Rahman I. Others claim that mihrab was oriented on the main street of Patricia.
Next - Mosque Taj-ul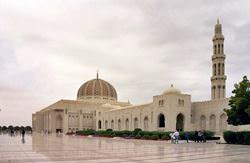 Baitul Mukarram Mosque, India
Mosque Taj-ul, India
Back to the start "Top Largest and Famous Mosques Worldwide"
Useful staff nearby
ATM bankomat: 'Cajasur' located in 0.1 km (
check the route on the map
).
Car rental office: 'GITAC. Gestión Integral de Turismo, Arte y Cultura' is located in 0.29 km (
on the map
).
Fuel station: 'Aparcamiento' in 0.32 km
Supermarket: 'TURRONARTE' in 0.04 km
Parking: 'Parking Córdoba Mosque' in 0.13 km
Apotheek: 'Farmacia Campos Ruiz' in 0.16 km
Police station: 'Joint police Juda Levi' in 0.03 km
Cafe/restaurant: 'El Patio Cordobes' in 0.01 km
Railway station: 'Córdoba' in 1.27 km