Faisal Mosque is the mosque in Islamabad, Pakistan. It is the largest mosque on the territory of South-Eastern Asia. In the world, it is in the fourth place in the area. This mosque doesn't look like other Pakistani mosques. A famous Turkish architect Vedat Dalokay didn't want to make traditional cupolas and created the unusual constructions that resemble a Beduin tent.
Before the building was organized an international competition in which architects from 17 countries submitted 43 proposals. Design of Vedat Dalokay was chosen as the most extraordinary and symbolic. The unusual building looked quite harmonious and unusual. Enter to the mosque you can through the inner yard that is decorated with a small artificial pond and marvellous fountains. The most beautiful marble types, delicate mosaics and calligraphic patterns were used for the inner decoration. The best masters from Pakistan did their best to decorate this mosque.
The payers hall is enormous, at once there can be up to 10 000 believers. The mosque has an additional hall for 24 000 people, the inner yard can meet up to 40 000 people. This great mosque was built within ten years and was finished in 1986. The great sum of money for the building was given by King Faisal bin Abdul Aziz. In honour of him was named not only the mosque but also the road leading to it.
Next - Baitul Mukarram Mosque
Eyup Sultan Camii, Turkey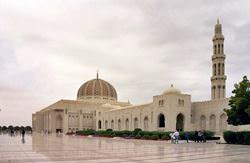 Baitul Mukarram Mosque, India
Back to the start "Top Largest and Famous Mosques Worldwide"
Useful staff nearby
ATM bankomat: 'MCB ATM' located in 1.22 km (
check the route on the map
).
Car rental office: 'Ayan Rent a Car' is located in 2.12 km (
on the map
).
Fuel station: 'HUSSAIN GAS STATION' in 1.84 km
Supermarket: 'Abdullah Groceries' in 1.64 km
Parking: 'Parking Lot' in 0.47 km
Apotheek: 'RAZA HEALTHCARE CLINIC AND PHARMACY' in 0.89 km
Police station: 'Margalla Police Station' in 2.33 km
Cafe/restaurant: 'Maantu Gul Kitchen' in 0.56 km
Railway station: '7th Avenue Station' in 3.59 km