Saint Andrews Cathedral is the oldest Baroque building in Saint-Petersburg. It has appeared at the beginning of the 18th century by the order of Peter the Great. However, the beautiful wooden church didn't stay there for a long time. In 1761 the cathedral was struck by lightning and burnt to the ground together with the great decorations and religious, given by the royalty.
The church was fully reconstructed only in 1780. Its decoration was rather modest according to the previous. The main peculiarity of the church is the great pastel pink colours. Earlier there you could see a lot of unique values but after the revolution, all were taken from the cathedral.
In 1938 the church was closed. Some artefacts were taken to the Russian Museum. One of the values was a 17th-century icon with the portraits of Patriarch Nikon and Tsar Alexis. The cathedral was opened only in 1992 and during the last restoration works there was reconstructed the impressive Baroque iconostasis.
Next - Basilica di Santa Maria Maggiore
Royal Opera House, India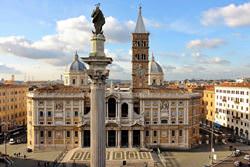 Basilica di Santa Maria Maggiore, Italy
Back to the start "The Most Elegant Buildings of Baroque Architecture"