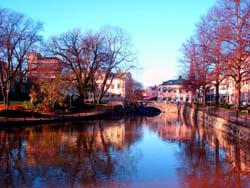 Swedes are a calm and measured people, living strictly according to the rules and traditions of their country. Being in Sweden, it is necessary not to break the habitual foundations of locals, to respect their culture, customs and laws.
Love of tranquility is manifested in Sweden in everything. In large stores, banks, currency exchange offices, the queue is formed with the help of electronic tickets, which must be taken in a special machine.
Smoking in transport and public places in Sweden is prohibited. You can smoke only in specially designated places.
Alcohol in Sweden is not sold on Fridays, Saturdays and Sundays. Its sale on other days is carried out only in specialized stores.
Swedes are very fond of their country and are proud of their origin; in no case can they be compared with other Scandinavians or confused with the Swiss. Before a trip, it is better to prepare a little and learn some Swedish words.
The optimal time to visit Sweden is summer. Winter starts early in the country; as early as October the sky becomes cloudy, strong winds blow and there is a lot of precipitation.
Read all...