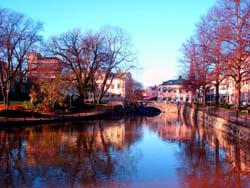 This is a popular tourist destination that is widely known as one of the most frequently visited places in Europe. In Sweden it's possible to find landmark to fit any taste. The city of Goteborg is famous for its magnificent botanic garden. It was founded in 1910 and currently occupies the space of 175 hectares. Bamboo groves, Japanese stone gardens, greenhouses and arboretums, and a breath-taking collection of orchids – the garden is very diverse and tremendously beautiful. Trees brought from Easter Island are considered the most precious item in the garden. These are the only surviving trees as they cannot be found in wild nature anymore.
The oldest church in Laplandia, Jukkasjärvi, is located not far away from Kiruna. The wooden building was constructed yet in 1608. A hundred years later the church was reconstructed. After that the church got a new altar, and in the end of the eighteenth century an organ was installed there. The church is an important historic landmark, and its inner design is no less precious as it was made by famous Swedish masters.
The most famous landmark of the Renaissance period is located in Malmo. Here travelers are welcome to see a beautiful castle built in 1434 by order of Erik av Pommern. Besides the building, don't forget to take a look at the beautiful garden located nearby. The large and skillfully decorated garden is divided into several thematic zones. The garden and the park zone in front of the castle have become a popular venue for various concerts, theatre performances and other events. The castle itself is home to three museums, one of which exhibits a large collection of pictures made by famous Russian artists. Which is the largest collection of Russian Art outside its home country.
Read all...