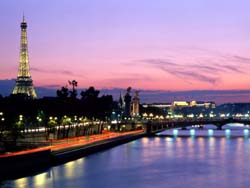 Airport location, terminals and transportation
Nowadays Paris-Le Bourget Airport, lying 12 kilometres northeast of Paris, functions as an air gate for business class and charter flights. It does not service commercial airline flights. Besides, the world-famous air show takes place here. The airport got its name from the area it is located on.
The airport became operational way back in 1919 and in the near future it will be 100 years old. The Air and Space Museum is situated here. The airport has one main Terminal K1, which is divided into seven separate terminals: Signature 1, Advanced Air Support, Landmark Aviation, Signature 2, Unijet, Dassault Falcon Service, and Jetex.
You can reach the airport by different ways. For example, you may call a taxi, rent a car or use public transport. As far as the latter is concerned, there are several options. One of the ways is to take underground line number 7 and then to use bus number 152. The alternative is to take underground line number 12 and to use bus number 350 after that. Instead, you can take train line RER-B, then catch bus number 133 in Le Bourget, get to Anizan Cavillon, and after that reach Michelet Parc d'Expositions by bus number 152.
You can buy tickets for all the public transport on your way from the airport in corresponding stores at the terminal gates or shops selling tobacco products and paper media.
Rental offices, how to find them, where to return car
You can not only order a taxi, but also hire a car at the airport. It is possible to do it in advance on one of the international sites for renting and booking cars. Besides, you may hire a vehicle at car rental offices, located in the arrival areas. The most reputable international car rental companies, which cooperate with LBG, are Avis, Europcar, Hertz, and Keddy.
The cars of Hertz and Keddy are received in airport terminals. Parking spots of Europcar, Keybrid, and Ada vehicles are opposite the Signature terminal, on the other side of the Avenue of Europe. Avis has parking lot on Avenue du 8 Mai 1945, Hertz's one is located on Rue Marcel Paul, and ADA's car park is on Avenue de la Division Leclerc. These points are not far from the territory of the airport.
Companies provide the service of picking up your car from the airport terminal. A car may be delivered to the receiving point free of charge. While placing an order, you should agree on the places where you get and return a car with the assistant of the company you have chosen. In addition to the companies mentioned above, Alamo, Thrifty, National, Dollar, Budget, and Sixt also operate in Paris Le-Bourget Airport.
Long-term and short-term parking, hotels nearby
The air terminal has paid parking lots. They are located near the Advanced Air Support terminal and the Unijet terminal. There is a number of hotels where you can sleep over or just stay before or after the flight. These are Premiere Classe, Maison familiale, Kyriad Prestige, Hotel Mercure, Hotel Campanile Gonesse, Appart'City Confort, and Air Hotel. The terminals feature break rooms.